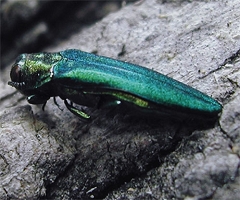 In Wisconsin alone, there are an estimated 834 million ash trees and 37 counties are already under quarantine, including Milwaukee, Ozaukee, Kenosha, Racine and Waukesha counties, to stop the spread of the Emerald Ash Borer.
All Wisconsinites have a role in this battle. Before the Memorial Day holiday and summer travel season begin, mid-May is the ideal time to consider insecticide protection and EAB treatments as leaves begin to return. First Choice Tree Care, located in Mequon and servicing all of Southeastern Wisconsin, is encouraging homeowners to be educated on EAB and the ways to treat and prevent EAB from spreading this spring to help slow the spread of EAB.
What is EAB?
EAB is an invasive pest from Asia that threatens the ash tree population throughout the U.S., where it has already killed tens of millions of trees with no signs of slowing down. The EAB is a small, metallic, green beetle that feeds on wood tissue just beneath the bark. The Asian beetle is nearly impossible to get rid of naturally, as it has few native enemies and has adapted to survive temperatures exceeding 30 degrees below Fahrenheit. Trees infested with EAB typically die within 2-4 years.
A Cure Exits with Proper Treatment and Protection
A cure for emerald ash borer does exits. Research has shown nearly 100% survival with treatment. Protection prior to EAB discovery is most effective, the earlier the treatments, the better chance your trees have of surviving.
The experts at First Choice Tree Care recommend calling an expert arborist to inspect your ash to determine if they are good candidates for treatment. An expert will be able to evaluate the health and value of the tree and then determine if the tree can or should be saved with proper treatment or whether it should be removed.

Get to know the signs of EAB to better detect an infestation!
Emerald Ash Borer Tips
The first sign that you have an EAB infestation may be woodpecker damage. Look for peeling or flaking bark as it is a strong indication that EAB are present.
Look for D shaped emergence holes in the bark. The holes will be about 1/8 inch in diameter and are a sure sign that EAB has already infested the tree.
Other signs include branch die-back, thinning canopy and sprouts growing from the tree base or trunk of the tree.
Look for emerald ash borer beetles present during the summer months.
Do not move firewood. The law requires that infested wood stay within the quarantine zone. If you have an EAB-infested tree, be aware that EAB can continue to emerge from the wood for two years after cutting.
If you suspect you have an infestation, call a tree care professional right away to discuss your options. Keep in mind that treatments are a more economical approach to EAB management than removal or replacement.
Opportunity
Owner of First Choice Tree Care, Ken Ottman is available to educate your viewers/readers on how to detect, treat and prevent this deadly infestation prior to the summer months. Ken can discuss treatment options that can restore health to infested ash trees. Ken can provide visual demonstrations to aid in proper detection and prevention methods, can show what an infested ash tree looks like, and educate viewers/readers on tips they need to look for when inspecting their ash trees.
Media Contact
For more information, or to arrange an interview with Ken, please contact Jessica Vollrath at Vollrath Associates at 414-221-0218 or [email protected]
About Ken Ottman
Ken Ottman is a tree care expert with 45 years of industry experience spanning the areas of government, the private sector and education. He currently owns and runs First Choice Tree Care, a full service arboricultural firm. Ken is a former City of Milwaukee Forester, and past president of both the 700+ member Wisconsin Arborist Association and the 25,000+ member International Society of Arboriculture (ISA). He has served on the State of Wisconsin Council on Forestry, chaired the DNR – Wisconsin Urban Forestry Council and the Tree Research & Education Endowment fund (TREEfund).
About First Choice Tree Care
First Choice Tree Care is a full-service arboricultural firm that services residential, commercial and municipal clients in Central Wisconsin and the greater Milwaukee area. The firm is unique in that it employs only ISA-certified, career arborists. They are consummate professionals, fully insured and fully trained on all aspects of tree damage and preservation. First Choice Tree Care serves all of Central and Southeast Wisconsin, more communities than any other Wisconsin tree-care company, and has local offices in Mosinee and Mequon, Wisconsin. For more information, please visit: http://www.firstchoicetreecare.com/page/eab