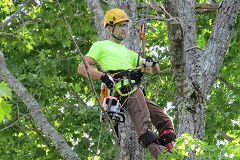 At First Choice Tree Care, our ISA Certified Arborists are the roots of our business. It's our arborists that come to your yard to plant, prune, treat and finally, remove your trees, so it's very important to us that they are well prepared to bring you the best tree care possible. Preparation for our arborists begins with a 2-year or 4-year degree, primarily in arboriculture or forestry. When arborists are hired at First Choice, we supplement these degrees with practical on the job training and continued learning from industry experts.
As part of our training program, we have employed the skills of former State Climbing Champion, Aaron Schauer, in a 10-week training program for new hires. During these ten weeks, Aaron creates a foundation of safety, skills and efficiency for each arborist.
We are excited to also welcome industry expert, Dr. Les Werner, as a training advisor to our team. A distinguished professor at the University of Wisconsin – Stevens Point, Dr. Werner is a leading expert in the field of arboriculture. In his role at First Choice, Dr. Werner shares his years of experience and research to assure that our arborists apply the latest technology in their chosen careers. The goal of his involvement is to prepare our staff to better apply their educational experiences to the real and practical world of tree care for you, our customers.
Once our team members have completed their ISA Certified Arborist qualification they are also annually given the opportunity to attend up to five days of advanced training offered by the Wisconsin Arborist Association.
To better illustrate how First Choice trains an arborist, we'd like to introduce you to two of our finest: Nick Kluck and Travis Hansen.
A graduate of the University of Wisconsin – Stevens Point with a degree in urban forestry, Nick was an avid rock climber and saw arboriculture as an opportunity to get paid to climb. His education prepared him for a career as an arborist, but it's his on-the-job training that has helped him to bring the best service to First Choice customers.
When he was first hired, Nick says a lot of his training was learn-as-you-go coupled with the assistance of Aaron Schauer's technical training. Nick shared, "With Aaron, we did a lot of hands on, technical training. We learned a lot about technical rigging – a lot of practical stuff that I could use right away on the job."
For Nick, the best part about the job is working outside and, at the end of the day, being able to see the work you've accomplished and the progress you've made for your customers.
After growing up on a Christmas tree farm in central Wisconsin, a career in arboriculture was a no brainer for Travis Hansen. He holds a degree in forestry from Mid-State Technical College in Marshfield, Wis., and has spent plenty of time climbing trees.
For Travis, training at First Choice has been ongoing as he attends conferences each fall and winter with arboriculture professors and speakers to learn about new products and ideas in the field.
"Between our education and the conferences, [First Choice arborists] learn about the biology behind tree care. So when we are talking to customers, we can tell them about how what we're doing is helping not only the appearance of the tree, but the health of the tree," said Travis.
To learn more about First Choice's team of experts, click here.