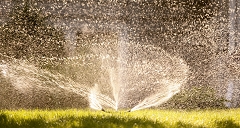 Wisconsinites finally welcome summer in July! During these much-needed hours spent sun-soaking and relaxing outdoors, it is important not to forget about the health of your trees and landscape. Many homeowners are not aware of the proper amount needed to water trees, and instead assume that increased temperatures call for increased amounts of water.
First Choice Tree Care would like to correct this common misconception, and inform homeowners how to effectively balance time and money when watering this summer.
Tips for Effective Summer Watering
Water trees after dinner. Whether your tree is newly planted or several years old, it is best to water in the evening. Watering in the daytime or morning sun may lead to evaporation, resulting in an increase in water usage and frequency.

Give trees an inch of water per week.

Damage looks exactly the same for over-watered and under-watered trees. To help keep track of the amount you're watering and the natural rainfall, keep a small pie plate or tuna can near your trees. Once the container is full, you're done watering for the week!
Timing is key. Homeowners should start watering immediately Regular weekly watering should continue during the summer and fall months until the ground freezes. This will give your trees water to store and result in less winter damage.
Opportunity: Owner of First Choice Tree Care, Ken Ottman is available to explain the effective techniques of summer watering to your viewers. Ken can also use visual demonstrations to discuss tree watering methods.
Media Contact: For more information, or to arrange an interview with Ken, please contact Sarah McClanahan at Vollrath Associates at 414-221-0219 or [email protected].
About Ken Ottman
Ken Ottman is a tree care expert with 45 years of industry experience spanning the areas of government, the private sector and education. He currently owns and runs First Choice Tree Care, a full service arboricultural firm. Ken is a former City of Milwaukee Forester, and past president of both the 700+ member Wisconsin Arborist Association and the 25,000+ member International Society of Arboriculture (ISA). He has served on the State of Wisconsin Council on Forestry, chaired the DNR – Wisconsin Urban Forestry Council and the Tree Research & Education Endowment fund (TREEfund).
About First Choice Tree Care
First Choice Tree Care is a full-service arboricultural firm that services residential, commercial and municipal clients in Central Wisconsin and the greater Milwaukee area. The firm is unique in that it employs only ISA-certified, career arborists. They are consummate professionals, fully insured and fully trained on all aspects of tree damage and preservation. First Choice Tree Care serves all of Central and Southeast Wisconsin, more communities than any other Wisconsin tree-care company, and has local offices in Mosinee and Mequon, Wisconsin. For more information, please visit: http://www.firstchoicetreecare.com.